SYNONYM is a neighborhood wine bar, café & bookshop that celebrates food, art, community & culture. The name reflects the shop's many dimensions.


Snacks, Bottles & Books To-Go
Free delivery in Hamilton on Tues, Wednesday & Friday on orders over $50. Next-day delivery only. Curbside pick-up available!


FAMILY-STYLE SNACKS
PICNIC FOR TWO | fresh focaccia, 3 cheese, pickled veg, honey, 1 oversize cardamom bun and a bottle of our favourite natural Rosé
Focaccia loaf | rosemary, sea salt
Cheese & Charcuterie Board | 3 incredible cheeses, saucisson sec, country pâte, pickled veg & crackers
Cheese Board | 5 incredible cheeses, pickled veg, honey & crackers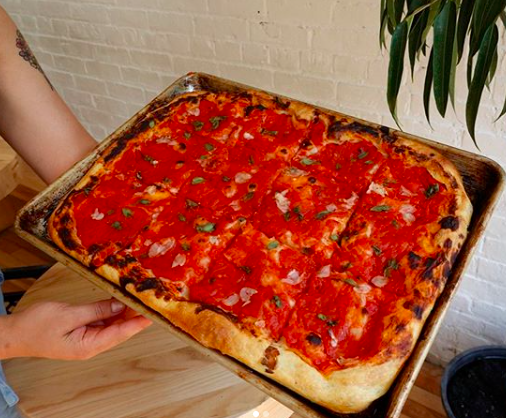 'Roman' style pizza | thick focaccia pizza | choice of marinara or crispy potato w/ garlic scapes
BOTTLE SHOP
*Please note: any alcohol purchased online must be accompanied by a food item as per the AGCO regulations


non-alcoholic

Casamara Leisure Sodas

Inspired by classic Italian bitters and
sodas
, Detroit-based makers
Casamara Club
created a line of booze-free, sparkling botanical beverages. Welcome a whole new beverage category: leisure sodas!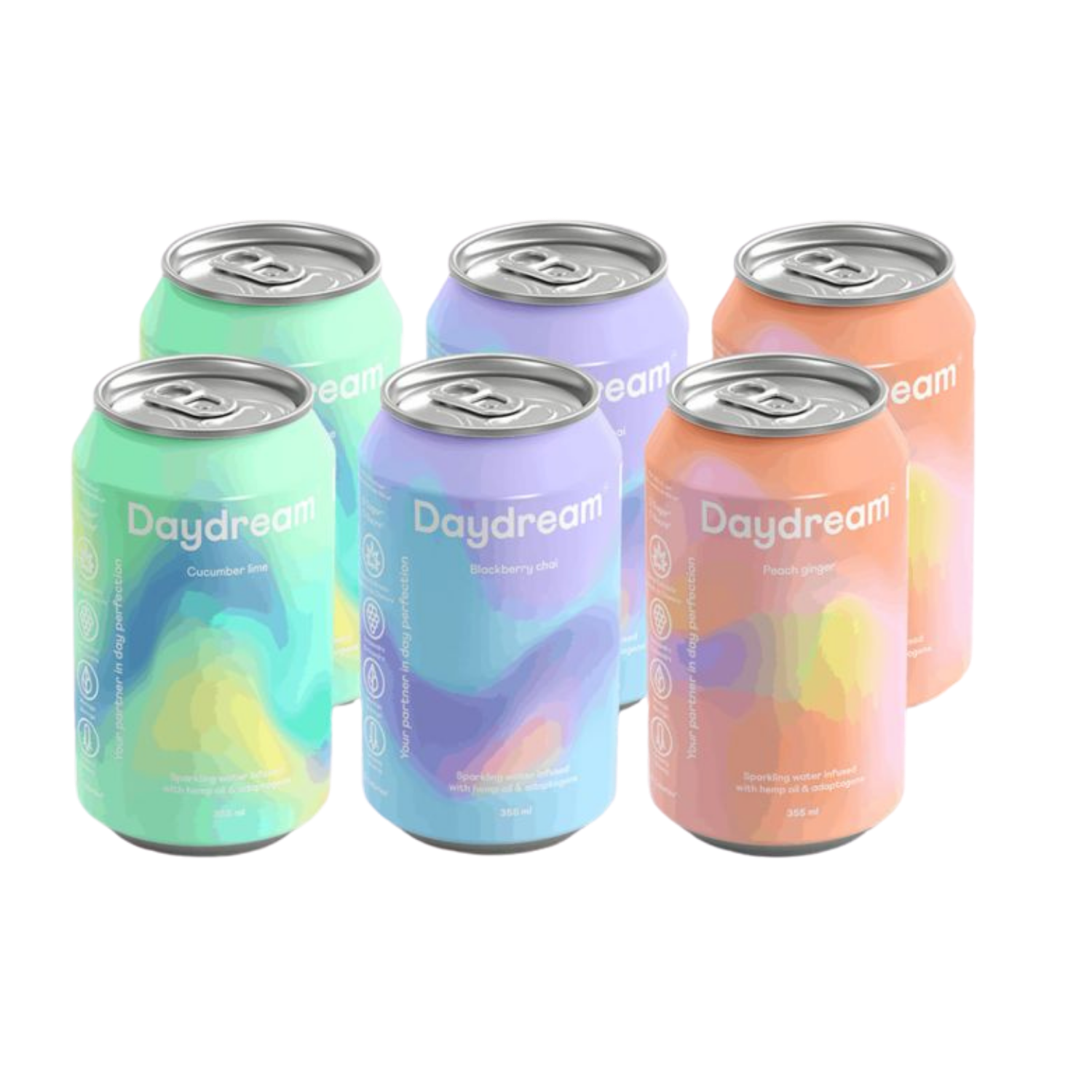 Daydream Drinks

Canada's first hemp-infused, adaptogenic drink. Natural flavours infused with anti-inflammatory, stress-reducing, anti-oxidation agents. Helps with balance, memory and focus.
DOUBLE CHOCOLATE RYE COOKIE (*please add if purchasing alcohol)

Beer & Cider

Burdock 'Cherry B'
sour saison rested on Montmorency sour cherries from Niagara; brimming with bright berry bursts of gummy bear pie and candied maraschinos

Burdock 'NULA'
375ml pale ale, dry-hopped sour. Hard to believe that no tropical fruits were harmed in the making of this beer
Sonnen Hill 'Local Spiff'
750ml Saison brewed with hops and grain exclusively from Ontario. Fermented and aged in oak with a mixed culture for 14 months.
Sonnen Hill 'There & Back'

750ml Mixed-culture wheat saison brewed with aged and fresh hops, and rested in a stainless tank for 12 months. Dry hopped prior to packaging and bottle conditioned.
Revel Cider 'Ostara'
Plums and petals - so romantic. Made with Golden Plums and 99lbs of wild, foraged dandelions. Amazing aroma, tart acidity.

DOUBLE CHOCOLATE RYE COOKIE (*please add if purchasing alcohol)

Bubbles

Casa Belfi Bianco Frizzante
Prosecco's natty cousin. 100% Glera grapes from the Veneto; spontaneous fermentation with native yeasts, no fining or filteration. All the joy of a light sparkling with more flavour & texture; grapefruit + lemon rind.
Casa Belfi Rosso Frizzante
A true original. Red sparkling like nothing you've tried before - made from Raboso grapes in the Veneto. The grapes are estate-grown and farmed biodynamically. Tart fruits, white pepper & sweet cranberry.
2019 Meinklang Prosa
The most cheerful of summer sparklers! A greatest-hits lineup of Austrian varietals (Pinot Noir, St. Laurent, Zweigelt, Blaufrankisch) make up this biodynamic blend. Little touch of strawberries and cream with some green apple acidity creeping in.
2017 Alta Alella 'Bruant' Sparkling
Xarel-Lo based natural Cava from Spain! Floral, white fruit with some subtle hazelnut & yeasty notes. Perfect for a fancy night in.

Rosé & Skin-Contact

2019 Milan Haru Rosé
Henri Milan makes wines the way he wants; completely natural and full of life. Going against the traditional rosés of Provence, this packs a lot more power & flavour. Dry & Robust.
2019 Baby Bandito Stay Brave
From Testalonga winery: a 'baby' orange wine. This Chenin Blanc sees 11 days of skin contact and goes into barrel with its lees. Packed with flavour and a touch of grip. Lemon rind and ginger.
2019 Ampeleia Bianco
Elisabetta Foradori's Tuscan project! Bianco di Ampeleia is a field blend with a base of Trebbiano blended with Inzolia and a couple types of Malvasia. Everything is co-harvested & fermented. 7-12 days of contact with the skins in concrete and then aged in concrete. This is a serious showstopper.

White

2019 Menade Verdejo
Move over Sauvignon Blanc - Verdejo is on the block! Menade works organically in Rueda to showcase the fresh and wild side of Verdejo. Dole's fruit cup w/ extra cherries.
2019 Meinklang Grüner Veltliner
Austrian's national grape, Grüner, truly shines at Meinklang. Everything you want: minerality and acidity with white pepper and apple blossom. One bottle is never enough.
2018 Les Equilibristes Bouillon aux Dame
Classic (natural) Chenin: wooly, textural and creamy. Spends some time with its lees in old oak barrels. But, there's still lots of vibrant acidity with bright lemony/golden apple notes. The perfect food wine!

Red

2019 Therianthrophy 'Le Maillot' Cabernet Franc
Ontario's new low-invention winery making highly drinkable-wines. This chill-able light red is perfect for the summertime! Tart cherry, cranberry & slight peppery quality on the finish
2019 Foradori Lezèr
Elisabetta Foradori is famous for her work with the ancient Teroldego grape in Alto Adige. When a tough vintage hit and she couldn't make her flagship wine, she made this playful, light red. It's now a cult favourite; peppery and bright. Perfect with a little chill.
2018 La Stoppa Trebbiolo
There is nothing quite like La Stoppa. Located in Emilia-Romagna, Elena Pantaleoni works exclusively with native grapes: Barbera & Bonarda for her reds. A fascinating wine truly reflective of the terroir and landscape where the grapes grow; savoury herbs, sweet leather and red fruit.

2017 Folk Machine Parts & Labour Red
Folk Machine was created in 2005 by Kenny Likitprakong for his range of esoteric Cali wines. A blend of Barbera, Carignan, Grenache & Syrah. This wine has the perfect fruit-to-acid balance, with gobs of red cherry and black raspberry fruit with cracked pepper and warm earth overtone. Bring to your next BBQ.

2016 Grange of PEC Cabernet Franc
Coming from Prince Edward County from Maggie Granger. Delightful medium-bodied Cab Franc with notes of mulberries, dried roses and green pepper. Drink by the fire while the sun sets.

2016 Alfredo Arribas Gotes del Priorat
Catalonia's superstar, Alfredo Arribas was a nationally renowned architect before shifting his focus to farming and winemaking fifteen years ago. He now makes some of the purest, high altitude wines in Spain. 50% Carignan / 50% Grenache 8 months in French Oak.

2019 Baby Bandito Follow Your Dreams
From Testalonga winery: 100% Carignan from Craig Hawkins in the Swartland. Natural wine made with young grapes for fresh and precise cherry and raspberry flavours. Balanced, grippy and full of life!

2019 Occhipinti SP68 Rosso
Made by the glorious Arianna Occhipinti - a blend of Nero d'Avola and Frappato from southern Sicily. Over the past ten years, Arianna has really come into her own and makes some of the most elegant and complex wines we've tried. Wild cherries, plum and mulberry with hints of flowers and smoke. Elegant and fresh.

Gifts & Books
Noble Rot: Issue 23
Noble Rot: Issue 21
Noble Rot: Issue 20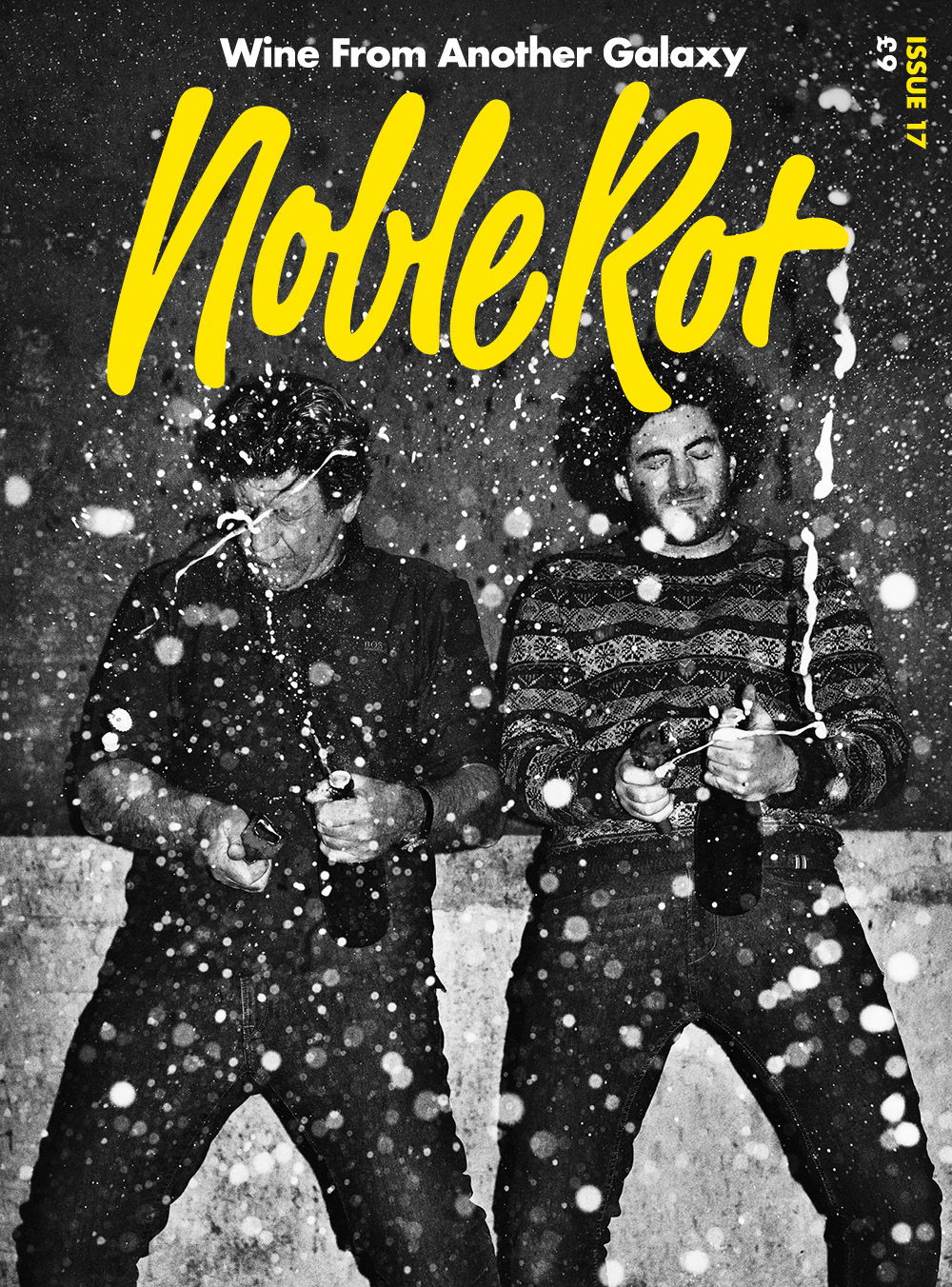 Noble Rot: Issue 17
Noble Rot: Issue 14
Noble Rot: Issue 13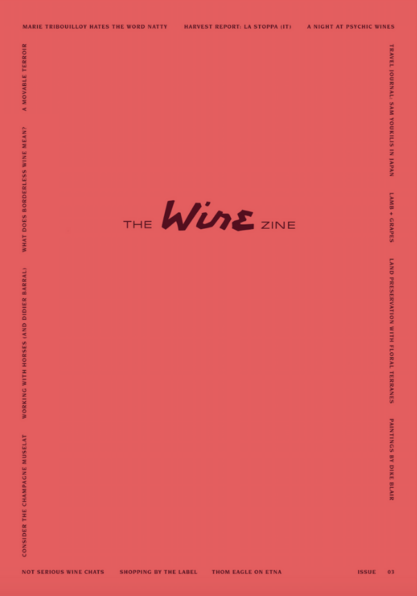 The Wine Zine: Issue 03
Featuring Elena Pantaleoni (La Stoppa), Sam Youkilis, Grape Republic (Japan), Fattoria al Fiori (Japan), Psychic Wines, Thom Eagle, Alexis Schwartz, Dike Blair, and more.