SYNONYM is a neighborhood wine bar, café & bookshop that celebrates food, art, natural wine, community & culture. The name reflects the shop's many dimensions.


RESERVATIONS:
REGIONAL DINNER KITS FOR PICK-UP & DELIVERY
We may not be able to travel as freely as we'd like to these days, but that doesn't mean we can't experience new places and experiences. Each week, we'll be offering a takeaway meal with wine pairing from some of our favourite culinary regions.

Join us as we drink and eat our way through these special regions from the comfort of our own homes.


PIEMONTE DINNER KIT FOR TAKE-AWAY OR DINE-IN
Order for: Fri. Nov 27th - Sun. Nov 29th $75 + hst (serves 2)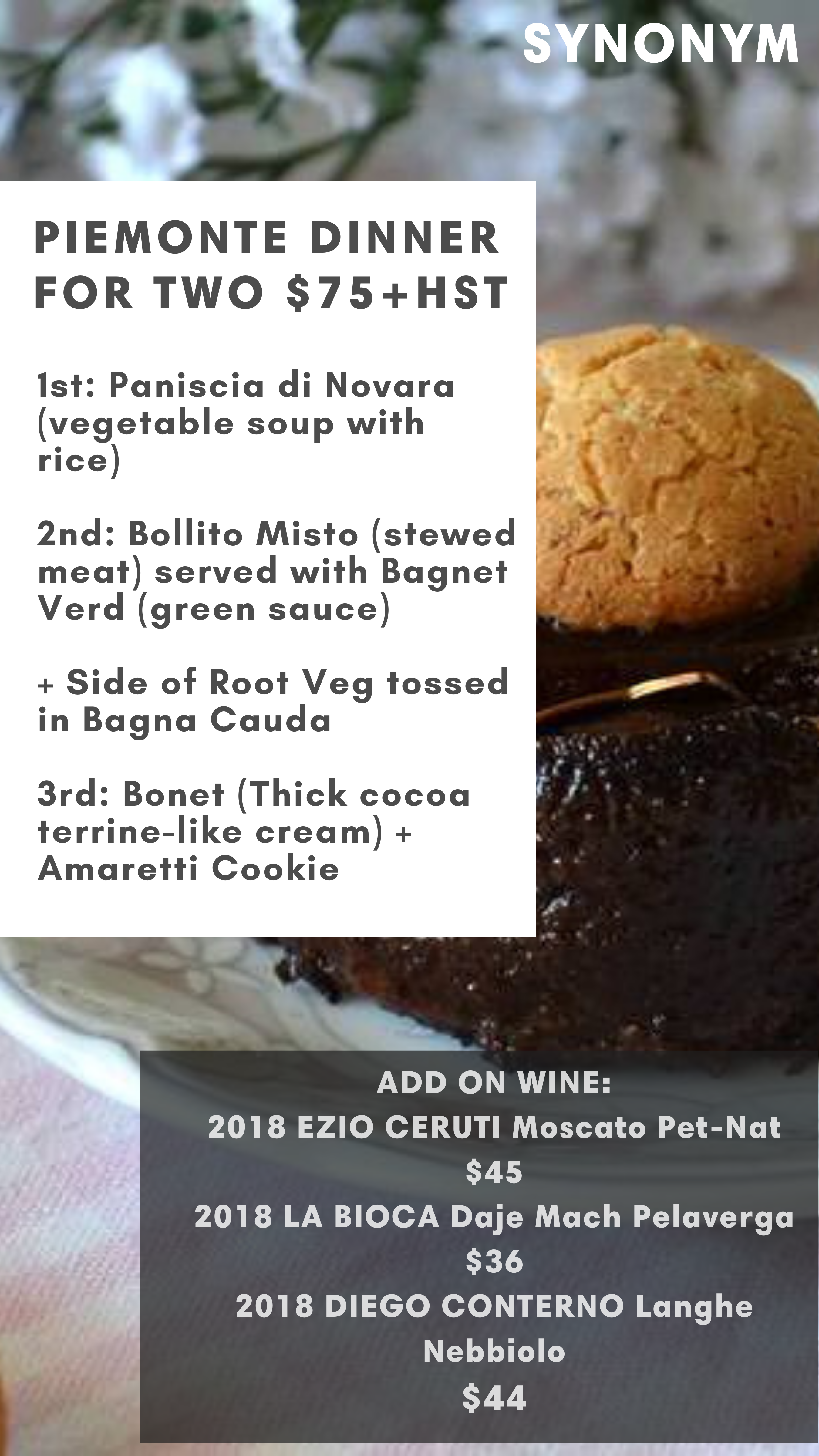 Fri., Nov. 27th - Sun., Nov. 30th: Piemonte (Piedmont) $75/serves 2 - LIMITED QUANTITIES REMAIN PLEASE CALL US: 905-525-7974
1st: Paniscia di Novara (Vegetable soup with rice)
2nd: Bollito Misto (stewed meats) served with Bagnet Verd (green sauce). Side of Root Veg salad tossed in Bagna Cauda.
3rd: Bonet (Thick cocoa terrine-like cream) + Amaretti Cookie
---

Support local this holiday season with a SYNONYM gift card!



---

TAKE-AWAY FOOD & BOTTLE SHOP
Focaccia loaf | rosemary, sea salt
Cheese & Charcuterie Board | 3 cheese, 2 meat, pickled veg & crackers
Cheese Board | 5 different cheese, pickled veg, honey & crackers
BOTTLE SHOP
*Please note: any alcohol purchased online must be accompanied by a food item as per the AGCO regulations

non-alcoholic

Casamara Leisure Sodas

Inspired by classic Italian bitters and
sodas
, Detroit-based makers
Casamara Club
created a line of booze-free, sparkling botanical beverages. Welcome a whole new beverage category: leisure sodas!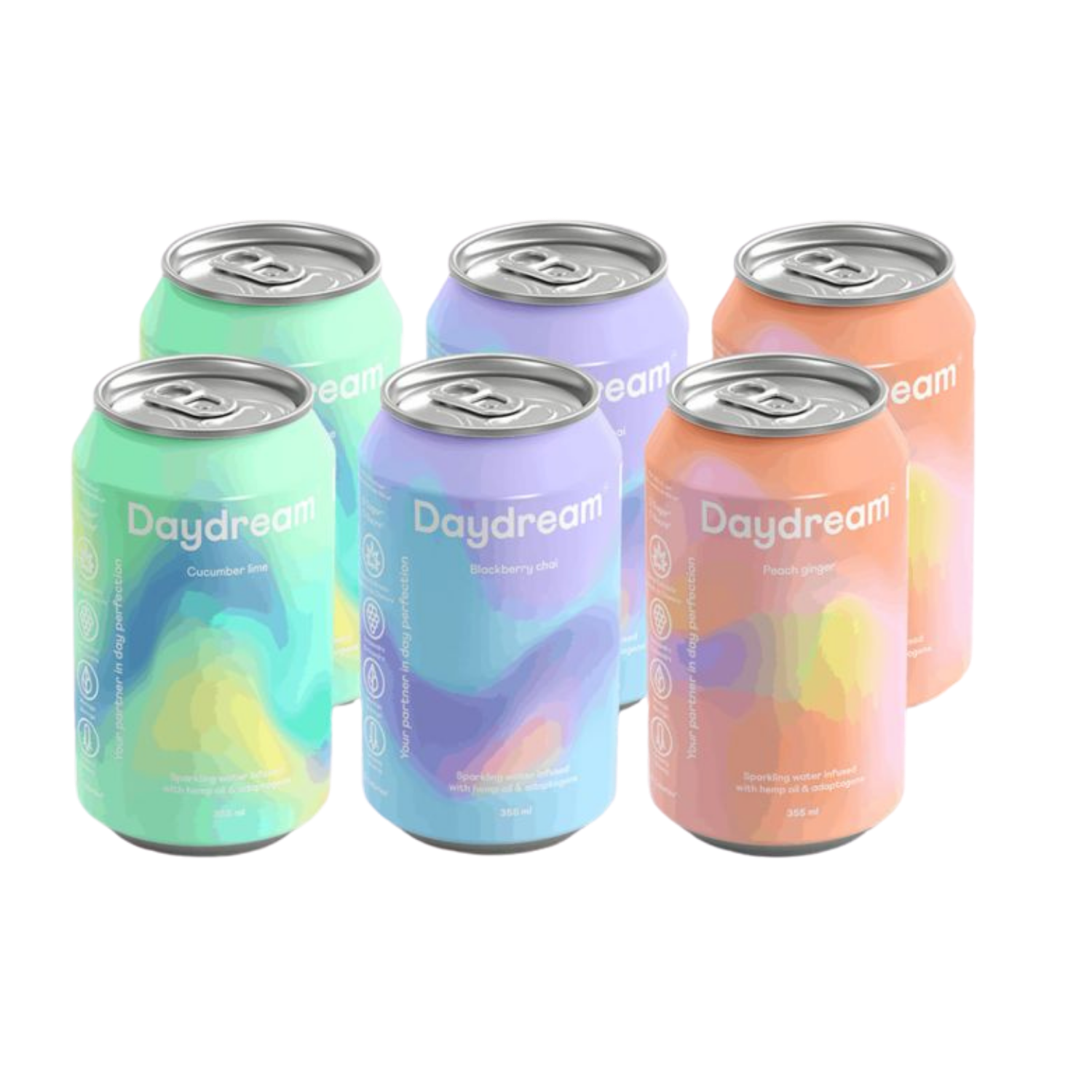 Daydream Drinks

Canada's first hemp-infused, adaptogenic drink. Natural flavours infused with anti-inflammatory, stress-reducing, anti-oxidation agents. Helps with balance, memory and focus.
DOUBLE CHOCOLATE RYE COOKIE (*please add if purchasing alcohol)

BEER + CIDER

Bellwoods Roman Candle IPA
473ml 6.8% Dry-hopped at the rate of a Double IPA, perfectly balanced, and showcasing bright citrusy aromatics, "Rocan" is a classic. A ightly resinous, balanced IPA that showcases lots of juicy melon and orange peel.
Bellwoods White Picket Fence Boysenberry
500ml 6% This foeder fermented saison is the result of a unique blending regimen, before being gently dry-hopped and bottle conditioned. Labour intensive in process, but rewarding in result. A complex, layered beer with perfect champagne-like carbonation to carry the lemon meringue aromatics, bright hop character, and rich brett notes. Refined and balanced acidity with lots of complimentary citrus.

Matron Brewing "Zhuzh"
Fieldbier, 3.5% 100% Ontario Ingredients This beer is brimming with Popham Lane Farm black currants. It will take you to tang town for a nice time.

True History Vermont Honk Pale Ale
355ml 4.5% Beep beep, mother truckers. Vermont Honk is a pale ale absolutely packed with flavour. Dry-hopped with huge notes of stone fruits and pineapple. It has a super balanced bitterness and mouthfeel so over the top you could literally take a bite out of it.

2019 Brasserie des Voirons Vivante d'Agrumes
750ml 5.5% Brasserie Des Voirons was started by Christophe and Barbara, who draw on wide and varied experience in the restaurant industry to open a brewery in 2013. They are committed to using only the highest-quality ingredients and the water sourced from Mont Blanc. Macerated with lemons from Amalfi coast and Sicilian oranges & clementines - delightfully sour!

Revel Vermouth & Soda
355ml 4.4% Your favourite Ontario cider company is now in the vermouth business! The base for these cans was a sweet vermouth we made with pears, apples and blue plums. It was then blended with foraged apple blossoms, wild lemon ginger, spruce tips and white pne shoots and refermented dry.
Eric Bordelet Sidre Nouvelle Vague
330ml 6.5% A traditional Normandy sidre from one of the best producers in France. Bordelet is a sommelier turned Cider maker. After working in some of France's best restaurants in the late 80's early 90's, Bordelet took over his family farm: 23 hectares of certified organic cider apple, perry orchards. Located in southern Normandy, he works biodynamically with some trees over 300+ years old. Semi-dry, bold flavours with a touch of funk and minerality.
Coat-Albret Cidre

750ml 6.4% Hailing from Brittany in France, this cidre is the real deal. Full-bodied, strong, with a bit of tannic bitterness which gives it superior length on the finish. Blue-cheesy goodness with funk and saucey, spiced apples.
Revel Cider "Soak"
750ml 5% Soak is Perry on Maréchal Foch skins. Soak is basic, in a beautiful way. "We spend so much time pushing ourselves to find innovative ways to make new blends but fruit juice + fruit skins has always been a winning combo." Maréchal Foch grapes bring high acid with a whisper of blueberries. Bartlett pears provide sweetness and width. We can get more romantic about this bottle but really, it's made for chugging. Spend time, see friends (at a distance), soak your tastebuds.
DOUBLE CHOCOLATE RYE COOKIE
*please add if purchasing alcohol
WINE
*wines are organized from lightest to fullest in body

BUBBLES

Casa Belfi Frizzante Bianco
Unlike almost every other sparkling from the same region, Casa Belfi makes this natural frizzante without any additions at all, from healthy vineyards, the same way Prosecco was made in the 1800s and before. In contrast to mass market Proseccos this wine is bone dry, cloudy and yeasty. Soft, ripe pears over a garden of jasmine.

Orsi Vigneto San Vito Pignoletto Frizzante Sui Lieviti
Orsi San Vito is one of our favourite wineries in Emilia-Romagna. Federico works according to biodynamic principles; employs spontaneous fermentation and doesn't fine or filter his wines. This is an insanely fun and delicious sparkling wine made with the very rare Pignoletto grape.

2017 Alta Alella 'Bruant' Sparkling
Xarel-Lo based natural Cava from Spain! Floral, white fruit with some subtle hazelnut & yeasty notes. Perfect for a fancy night in. The Champagne of Spain.

SKIN-CONTACT

2019 Silivio Messana Bianco
WOW! This was not what we were expecting. 100% Trebbiano with 10 days on skins. The clear bottle, crown cap and the white Messana label indicate a departure for Silvio Messana of Montesecondo winery. He's heading into new territory: smaller projects built around carefully sourced Tuscan fruit vinified in new styles. Aged in concrete tank and bottled under crown cap without fining or filtering. It weighs in at only 10.5% alcohol - we want this every day of the week.

2018 Cirelli Trebbiano d'Abruzzo Anfora
A cult classic in the natural wine world, Cirelli's white Trebbiano is a wine we really want you to experience. The grapes ferment on their skins for 24hrs before the juice is aged in amphora - vessels made from terracotta similar to Georgian qvevri - for 12 months. The aromas are enchanting: tropical and lush, but subtle and savoury & so, so many flowers! This would gladly age another 5-10 years in your cellar, but it's also delightful in its youth.

2019 'A Vita Leukò
This is a perfectly balanced skin-contact wine from the coast of Calabria.70% Greco Bianco and 30% Gaglioppo. The Greco Bianco is macerated for a few hours and the Gaglioppo is vinified white after direct pressing. Dance in the moonlight and breathe in the mediterranean sea.
2019 Mother Rock Brutal! Chenin Blanc
The long awaited new vintage of Johan Meyer's (AKA Mother Rock) collaboration with cult Barcelona natural wine bar Brutal. This is dry-farmed Chenin Blanc with 10 days' skin contact vinified without any fining, filtration or additions. Exquisitely fresh and pungent with aromas of citrus blossom, spicy pear and wild flowers. Lean and zippy on the palate with pithy grapefruit and green apple.
Supernatural Wine Co. "Minus 220"
You'll never think of New Zealand Sauvignon Blanc the same - a little skin contact goes a long way! A little waxy with honeysuckle, lemon, lime and bitters nose with hints of ginger. Rich and textural - delicate in structure, but powerful in flavour. This wine delivers more with every sip! 'Preservative 220' is the additive name for sulphur dioxide, hence the 'minus.' Naturally delicious.
WHITE

2019 Domaine de Montcy Cheverny Tradition Blanc
One of the most unique areas in the Loire: Cheverny. Here you'll find producers like Montcy blending Chardonnay (20%) and Sauvignon Blanc (80%) to create a wine of supreme balance and texture. Notes of acacia and citrus. The palate is round and soft. A natural pairing with goat's cheese or grilled fish.
2018 Celler Credo Aloers
A very delicious example of a still Xarel-lo (typically reserved for sparkling Cava production) grown biodynamically on calcareous soils in Penedes. Made by allowing the must to macerate for a few hours with the stems and then leaving the wine on the lees for two months. Primary aromas of citrus fruits mixed with herbal sage/rosemary and a wonderful salinity.

2018 Naudin Ferrand Hautes Côtes de Beaune
Claire Naudin, has been in charge of this small domaine based in Magny-les-Villers, a village that sits between Hautes Côtes de Beaune and Hautes Côtes de Nuits, since 1994. Burgundy is Chardonnay's spiritual home and a wine like this can show you why: dry, rich, slightly honeyed with marvellous poise, elegance and balance. Claire is a firm advocate for sustainable and natural winemaking.

2018 Les Equilibristes Bouillon aux Dame
Classic (natural) Chenin: wooly, textural and creamy. Spends some time with its lees in old oak barrels. But, there's still lots of vibrant acidity with bright lemony/golden apple notes. The perfect food wine!

2018 Banyan Gewürztraminer
You might think you know Gewurztraminer - you can't miss its distinctive lychee aroma - but, you probably haven't met Kenny Likitprakong. He likes to do things a little differently. This is a lower ABV wine from Monterey County, California. Kenny handpicks the grapes and ferments them low and slow. There's a beautiful acidity here that you don't normally find with Gewurztraminer (and a lightness), but you'll still find those impactful aromas and flavours of tropical fruit, sage, and bright, fresh gardenia blossoms.

RED

2019 Rachis & Derma Gamay
A small production, natural wine from Beamsville's own, Hidden Bench Winery. The first of its kind, this R&D Gamay was hand-picked and left in whole bunches to ferment resulting in a fresh, lively wine. Raspberry coulis, lush berries and lots of black pepper spice! Bright and zippy.

2016 Domaine Rolet Poulsard
Farming sustainably, Domaine Rolet grow a wide variety of grapes native Jura, including this Poulsard, which is quite possibly the oldest grape specific to the Jura. Incredibly unique - we always get this intense aroma of fresh tomatoes snapped straight from the vine. Light, meaty & elegant all at the same time - like Pinot Noir with a bolt of electricity through it.

2018 Naudin Ferrand Hautes Côtes de Beaune Rouge
From one of our favourite organic, natural producers in Burgundy. This whole-cluster Pinot from the Hautes-Côtes de Beaune is loaded with flavors of red currants, rose petals, black pepper, and fresh potting soil. Bright acidity and structured backbone lead to a long finish. Drink now or revisit in 3-5 years.

2018 Domaine Mosse Cabernet Franc
Agnès and René Mosse have become one of the most admired estates in the Anjou, especially amongst natural wine fans. Although made naturally with wild yeasts and no additives, these are precise wines; rich, powerful and delicate at the same time. The grapes come from 40 year-old vines on schistes soils with clay and gravel. The soils bring a unique mineral character to the Cab Franc along with earthy red currant and black raspberry fruit. Enjoy, served slighty cool, over the next 5-7 years.

2018 Sori' Paitin Langhe Freisa
Paitin is one of the oldest wineries in Barbaresco, they consider 1796 their founding but their roots in the area date back even further. Freisa is an ancient grape that fell out of fashion in the 60s. This is the first vintage since 1968 that Paitin has made. Freisa offers plenty of character; sweet floral, spice and red berry notes. Absolutely delightful.

2018 La Stoppa Trebbiolo
There's so much to love about this wine: the woman behind the winery (Elena Pantaleoni); the grapes (Barbera/Bonarda); the dedication to organic, low-invention & natural farming/wine-making. This wine always leaves us contemplating everything from what's in the glass to why all wine can't taste this great.
BOOKS/MAGAZINES
Noble Rot: Issue 13
The other Bordeaux: visionaries of France's largest fine wine region; what it's like to be a restaurant critic; wines from the ancient ocean (Chablis); and the beauty of the one bottle cocktail (vermouth).
Noble Rot: Issue 14
Wine on the edge: the slopes of Galicia; Russel Norman's favourite Venetian restaurants & bars; 30 years of iconic British food; how to drink alone.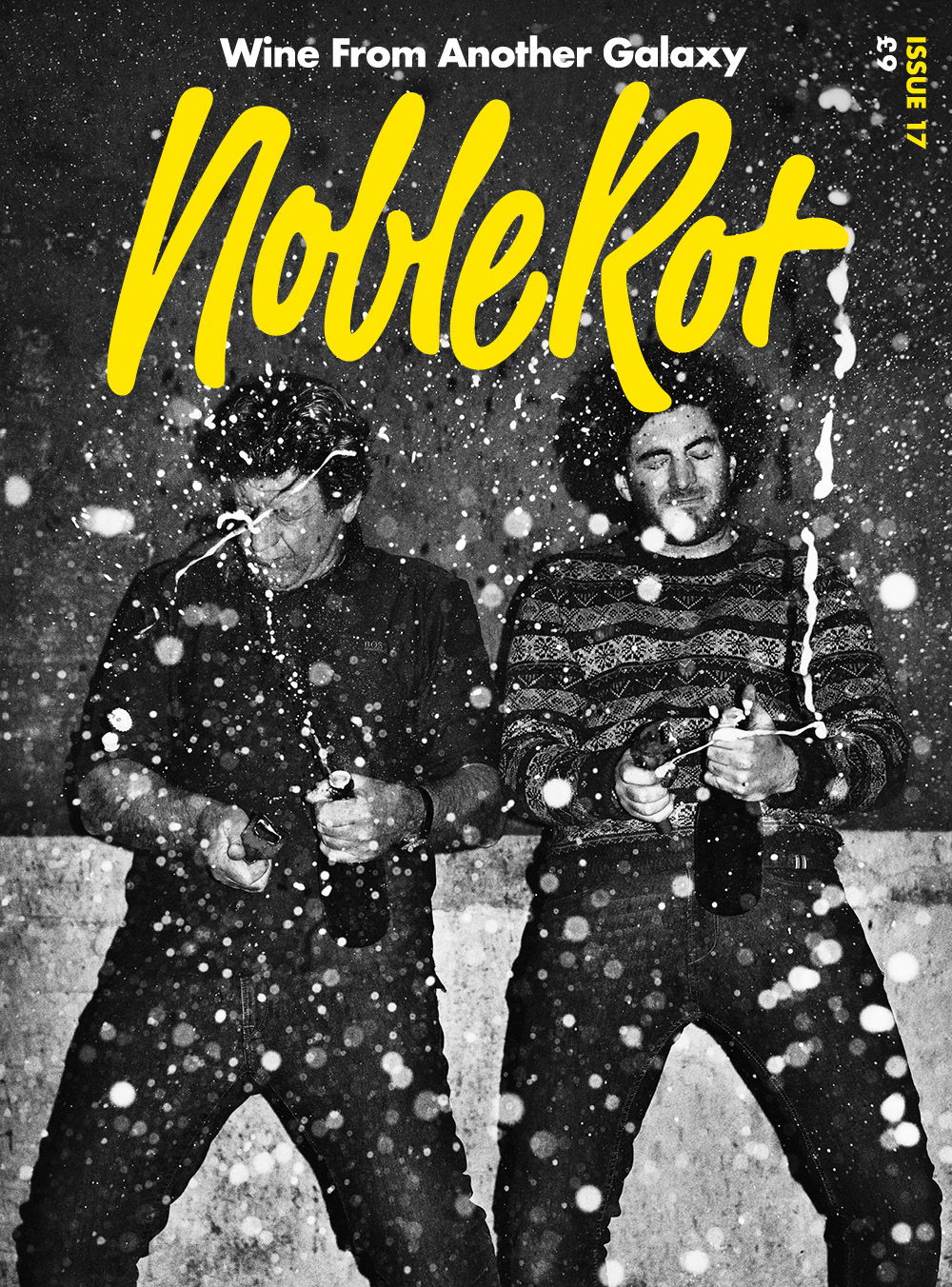 Noble Rot: Issue 17
A spotlight on grower Champagne: from Jacques Selosse to Ulysse Collin, Noble Rot meets the pioneers and coming generation of this exciting region; the 10 Best Food Scenes on Film; feature stories about Cornas, Greece's Xinomavro, Restaurant Snakes & Ladders, Vin de Seyssuel & Mont Blanc.

Aperture Magazine 240
This fall, as debates around nationalism and borders in North America reach a fever pitch, Aperture magazine releases "Native America," a special issue about photography and Indigenous lives, guest edited by the artist Wendy Red Star. Aperture, a not-for-profit foundation, connects the photo community and its audiences with the most inspiring work, the sharpest ideas, and with each other.

EATEN No.9
Featuring old recipes, gastronomic essays, and the fascinating and forgotten tales of the people who have grown, cooked and enjoyed all things edible over the centuries. No.9 "Fire & Ice" from fiery cheese to pungent peppers and freeze-dried potatoes - the hottest essays on the coolest moments of global culinary history.
The Monocle Guide to Better Living
For its first-ever book, the editorial team of Monocle Magazine looks at one of their core themes: how to live well. The result is The Monocle Guide to Better living, an original, informative, and entertaining collection of writing, reports, and recommendations.

The Touch: Spaces Designed for the Senses
An exploration of human-centered design by looking at its most essential elements: light, materials, colors, nature and community. The book presents a total of 25 homes, hotels, museums and other spaces around the world where haptic design is used to awaken the senses and create a more powerful experience.